Daily Irish Luck in Ireland Daily Million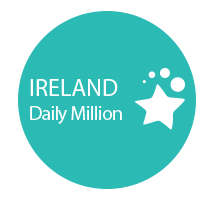 Because of the huge interest in lottery games in Ireland, the Irish National Lottery introduced Daily Million in September 2012 as a daily game with a fixed €1 million jackpot prize. The daily game proved so popular that the National Lottery added a second daily draw starting in April 2016.
The National Lottery, which operates the Daily Million draws, has raised billions of euros for good causes across the Republic of Ireland. These good causes include sports and other recreation, national culture (including the Irish language), the arts, health and welfare.
Owing to the Daily Million's small guess range, the odds of winning the jackpot are quite high. Draws take place every day at 2pm and 9pm local Irish time, including on weekends and bank holidays.