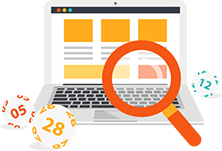 In the past, people had to physically go to their local store to buy official lottery tickets – and they certainly didn't have access to international lottery games unless they had significant frequent flyer miles! The internet has changed all that and now people can purchase lottery tickets for draws around the world from the comfort of their own homes and mobile phones. We here at Lottery-Review.com strive to present your with the best lottery messenger services and lottery betting options the world has to offer.
Our reliable and expert staff rates and reviews the most popular lottery websites out there, giving you all the information required to make a great consumer decision. We put the time and effort into researching all available options, so you don't have to! Just sit back, relax, and choose the best lottery service for you. If only we could have some effect on the outcome of lottery draws… but hey, you can't win if you don't play.
What do we get out of it?
We know how stressful online transactions can be, so first and foremost, we hope to give consumers peace of mind that they're using reputable lottery services. To offset the costs of maintaining our comparison site, some of the links featured on the site are connected to affiliates. Our reviews are not impacted by these links, however, and we remain committed to giving you honest and correct information.
Support and General Inquiries
If you have any questions, comments or concerns, please send a message to [email protected]
U.S. - Powerball

on April 18, 2021 at 11:28 am

Draw Date 18/04/2021 03:00 GMTDraw Result 10;21;26;41;49 + 25Next Draw Date 22/04/2021 03:00 GMTNext Draw Jackpot US$ 90 Millionhttps://www.thelotter.com/lottery-tickets/usa-powerball/